Smart 20Amp DC to DC Battery Charger MPPT Dual Battery System Kit Isolator Solar 12V in vehicle battery charger
20Amp DC to DC Battery Charger MPPT Dual Battery System Kit Isolator Solar 12V in vehicle battery charger
Prompt Shipping / 2 Years Warranty.
"

Want To Avoid

Paying A Mechanic

To Restart Your Car/Truck And Have

Power Available For All Your Needs "
Imagine ... being stuck in the middle of nowhere, your vehicle's or boat's starter battery is flat, the next town is miles away , this is a situation that everyone dreads and no one wants to be in, but fortunately it is one that can be easily avoided.
Here's the good news...
This Smart 20Amp DC to DC Battery Charger MPPT Dual Battery System Kit Isolator Solar 12V in vehicle battery charger
Can Safely Keep your Battery Power up
!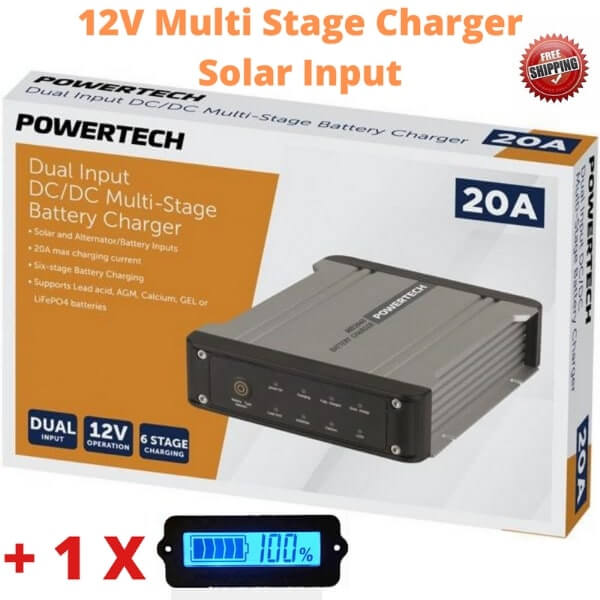 As you can imagine ... with Car, Truck, Caravan, 4x4, Boat Tractor or Camping situation, our power demands have increased a lot from the old days , and whole enjoyment now more than ever before revolves around powered devices, so a failure in this area due to low power, can just destroy a holiday completely.
So in my opinion ... having a safe power system to back up your whole battery system at all times is paramount.
Far more than your average Dual Input DC/DC Multi Stage 20A Charger this Unique and Compact Device represents most advanced technology and efficiency in the market, making each charge a simple process.
It is a sophisticated multi stage charger,utilising switch mode and fully automatic computerised control,designed to charge most 12 volts AGM/GEL, Lead-acid,Lion,and Calcium batteries.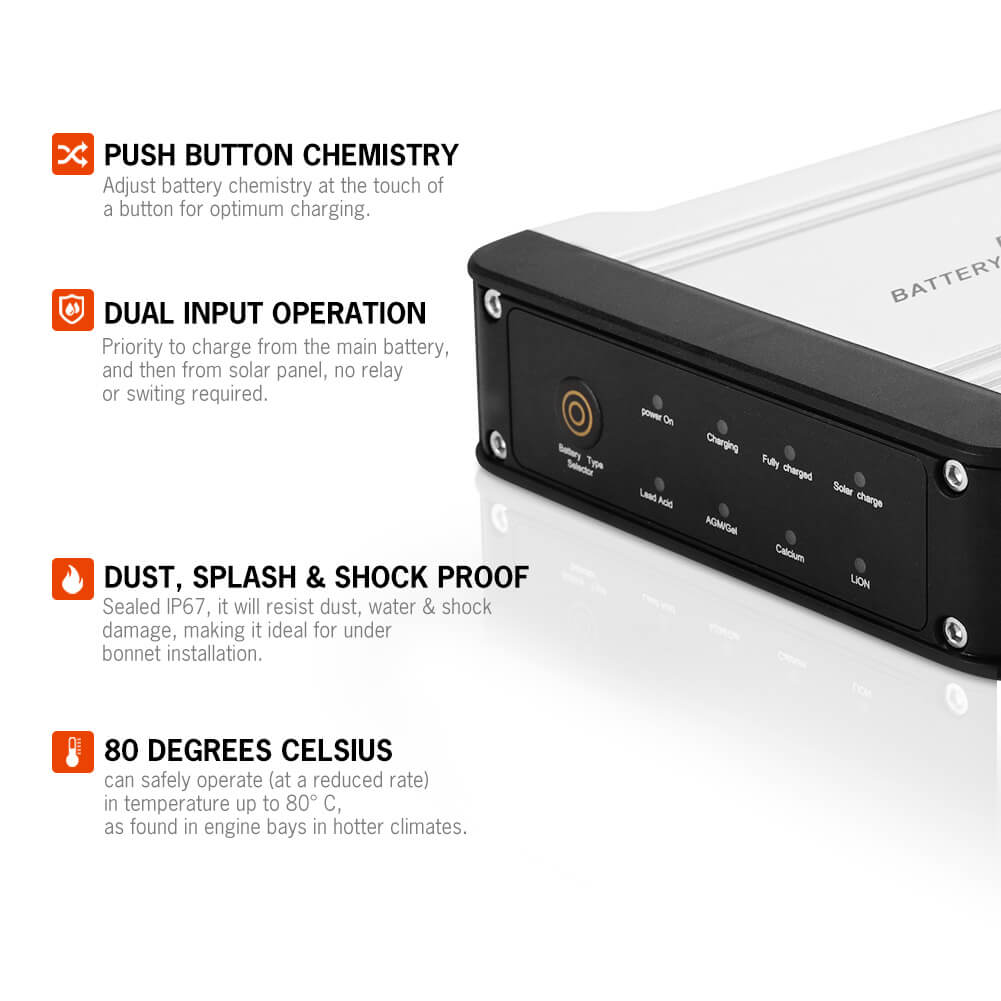 Designed to manage solar and alternator power inputs to charge an auxiliary (house) battery system.
Works both way:
- Priority charging for Starter Battery.
- Priority Selecting for Starter Battery.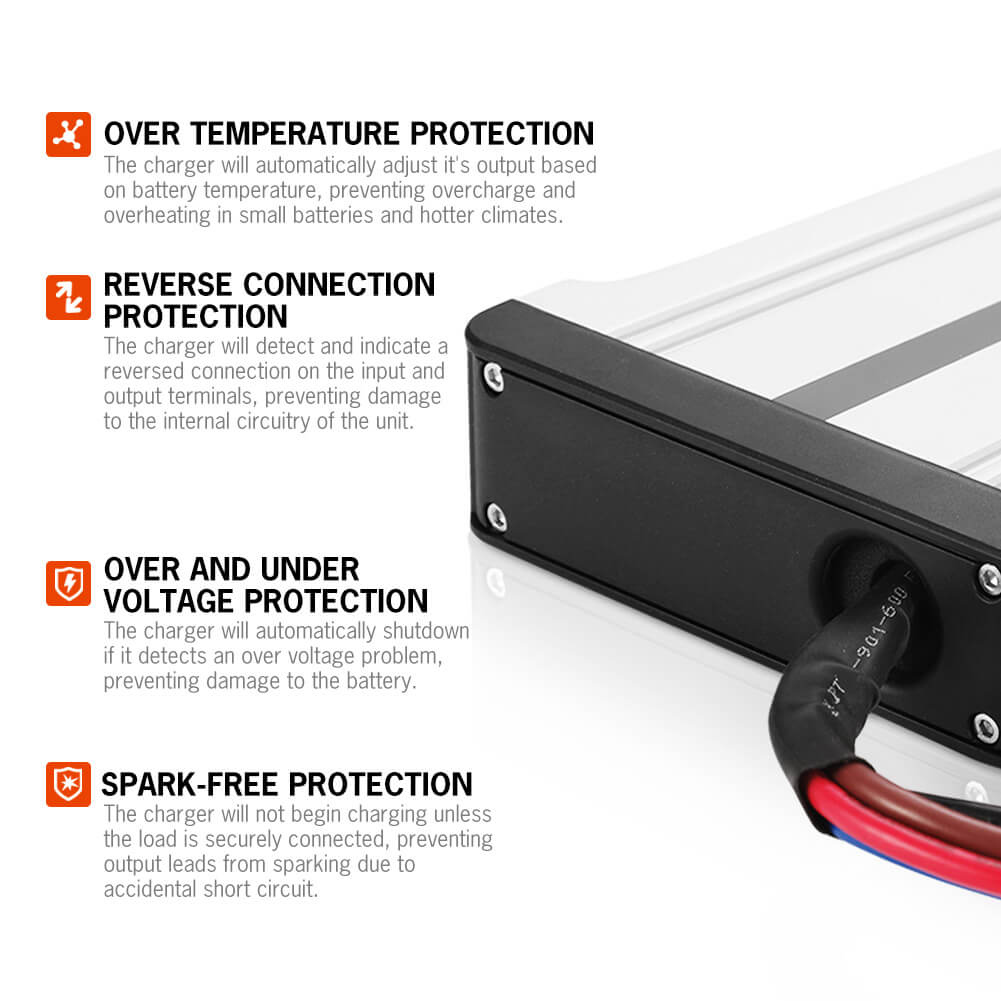 The system will preference solar, providing lower loads on your engine when solar is available.
With automatic ignition detection enabled, the system will isolate the starting battery when the engine is off, preventing discharge of your critical starting battery. It's fully automatic, with a set-and-forget type operation.
The microprocessor controlled circuit keeps your battery in peak condition, automatically switching between six charging modes; Qualification, Recondition, Bulk, Absorption, Check, and Maintenance.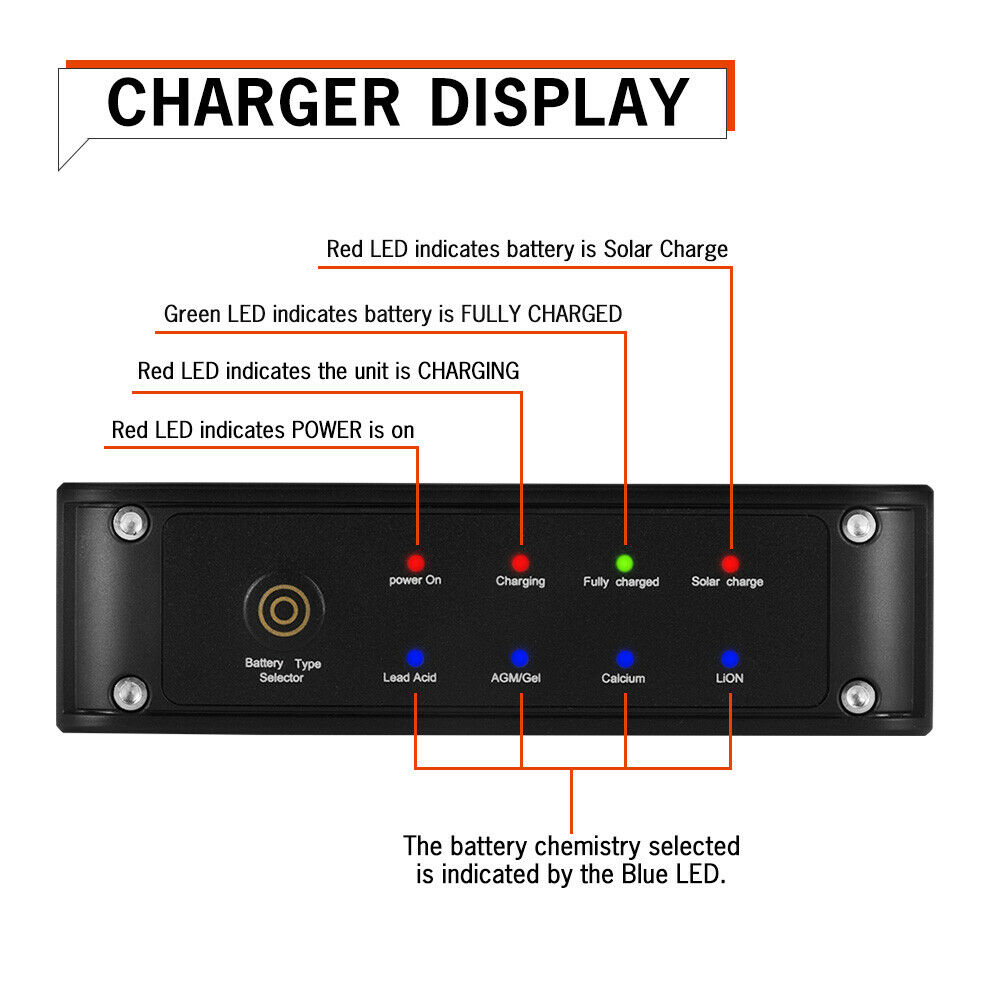 Adding a second battery in your vehicle or boat enables you to power your electrics without flattening your main starter battery when the engine is off.
Intelligent detection circuitry provides automatic selection for Battery charging with automatic isolation to protect your main battery and give you peace of mind.
Bonus ! 1X Capacity Monitoring Gauge is also included which is very useful to Monitor each battery.
Great for the outdoors when adding a second battery in your vehicle, boat or trailler. Also it becomes helpful when you go out for traveling, camping, expeditions and more.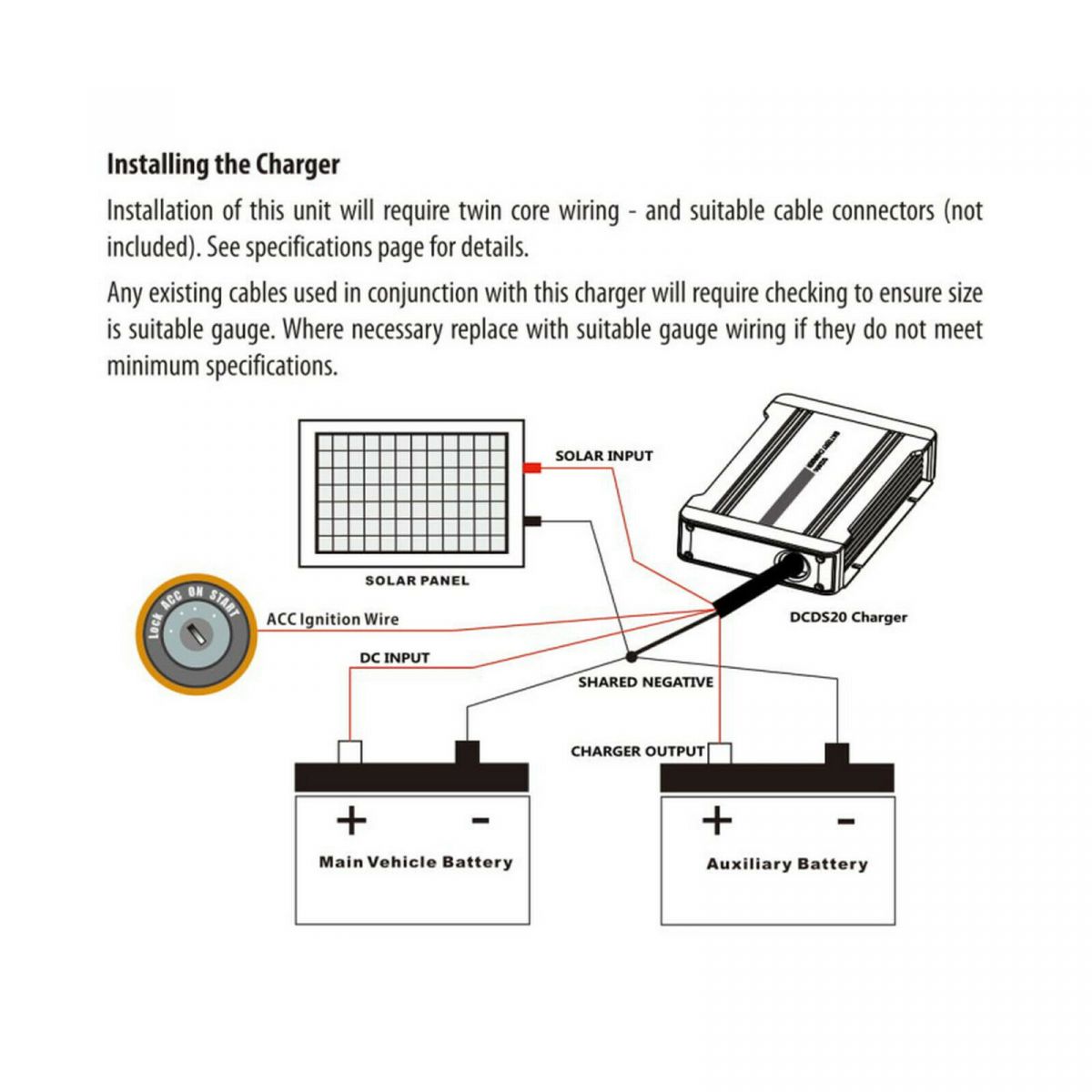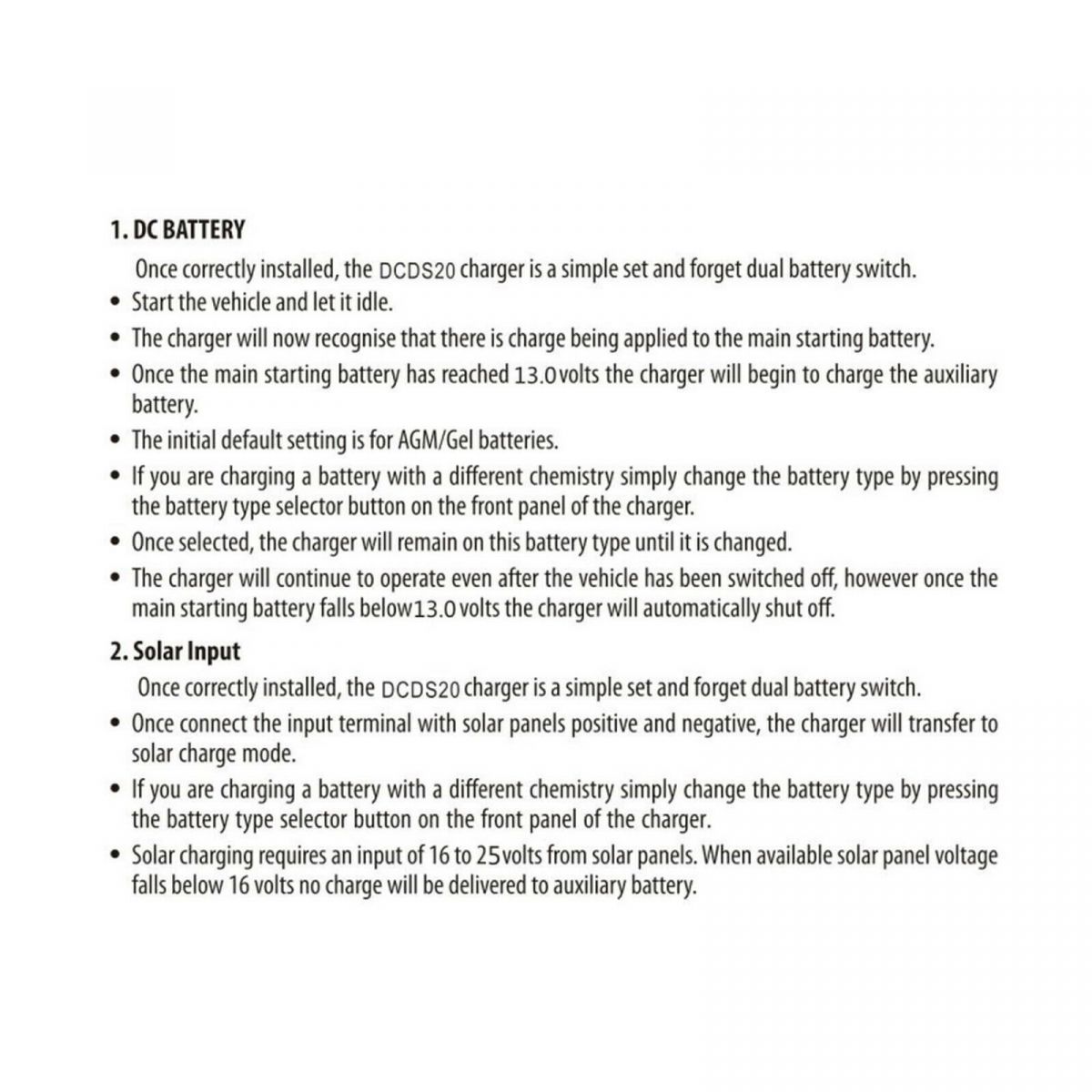 No need to

wait for

a Mechanic (when available) and

pay an expensive fee

.

If you have a

Smart Battery DC/DC Multi ctage charger

with Solar panel connection you can keep your batteries Topped up at all time.


Modern day DC/DC Multi-Stage Battery ChVoltage switch relay allow you to do more with your battery system.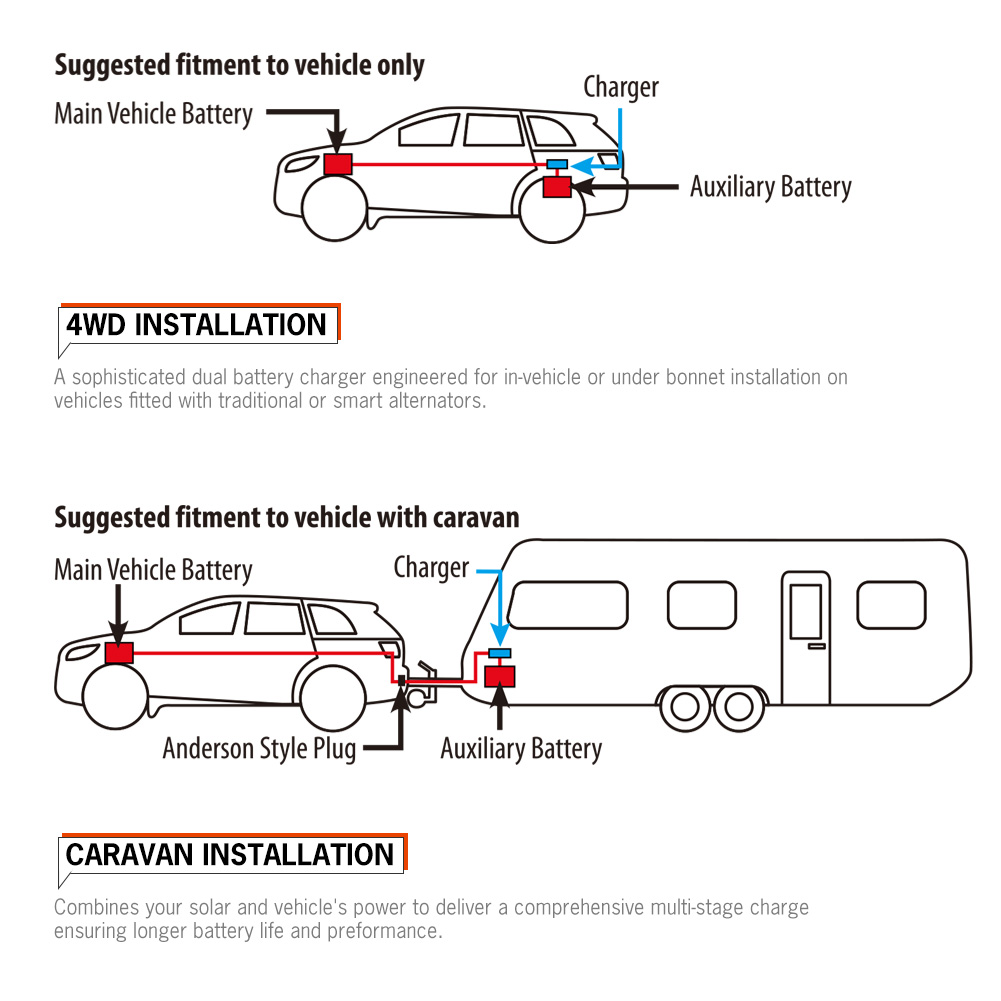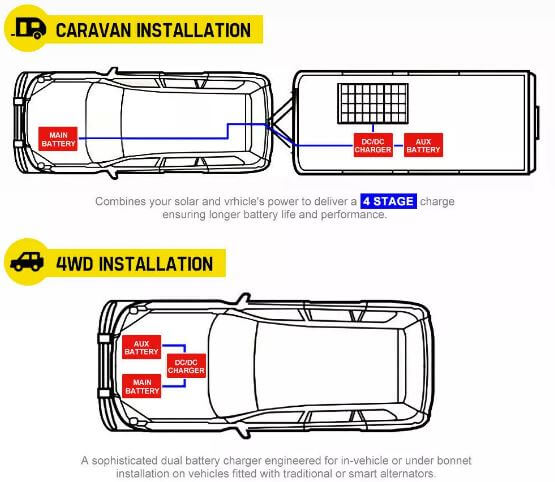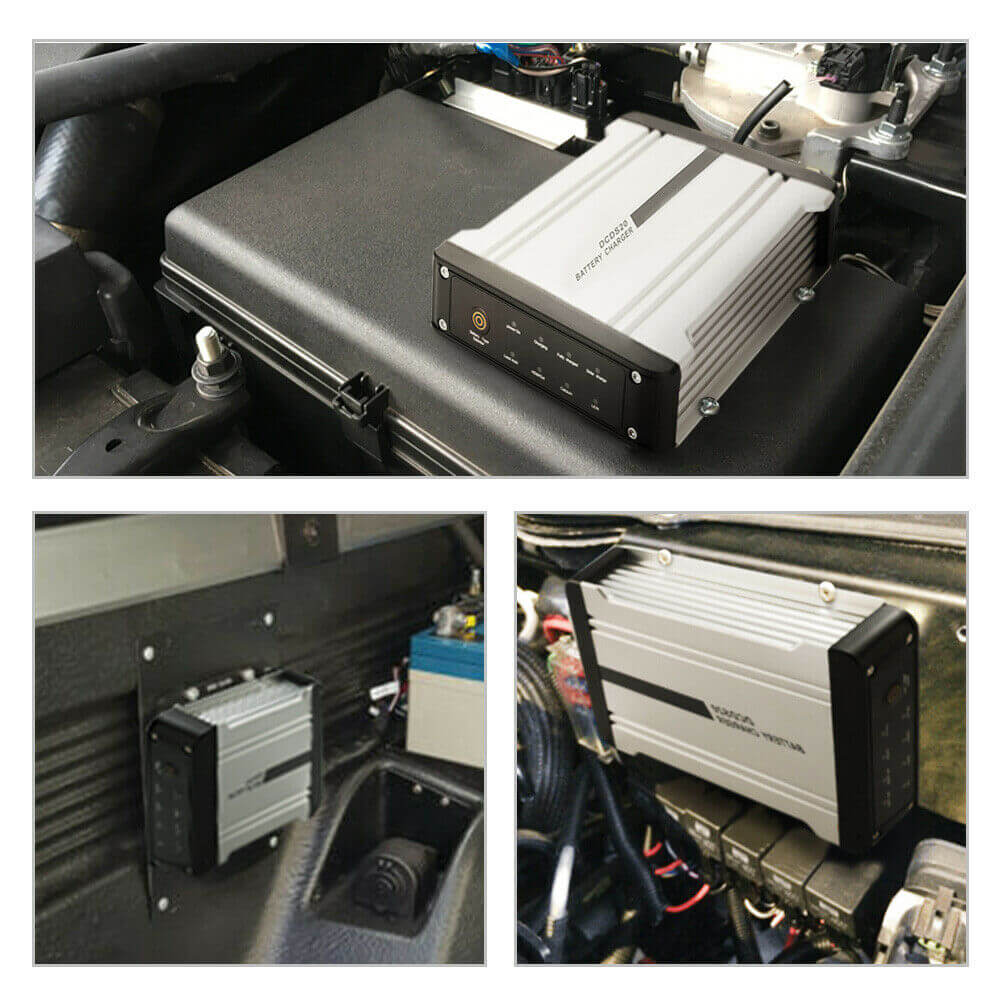 Features :
When on the move with a secondary battery you can charge mobile devices (Iphone Ipad), power tools batteries and have the peace of mind to know that power is always there when you need it.
Dual input - solar and/or alternator/car battery

Priority charging for Starter Battery

20A max charging current (automatically controlled)

Fully Automatic Six-Stage Battery Charging

Easy push button chemistry select:AGM/Gel,Calcium,Lion,Lead-Acid Batteries

MPPT Solar Regulator Technology

Solar input overload protection

Pulse mode technology that reduce oxidation,evens electrolyte consistency and minimises temperature equating to longer battery life.

Microchip monitoring and control

Internal charger temperature monitoring and power output control

LED Indicators showing state of charge

Over charging,short circuit and over temperature protection

Input and output reverse polarity protection

Thermal overload protection

Heavy duty Aluminium case and mounting brackets

Easy to install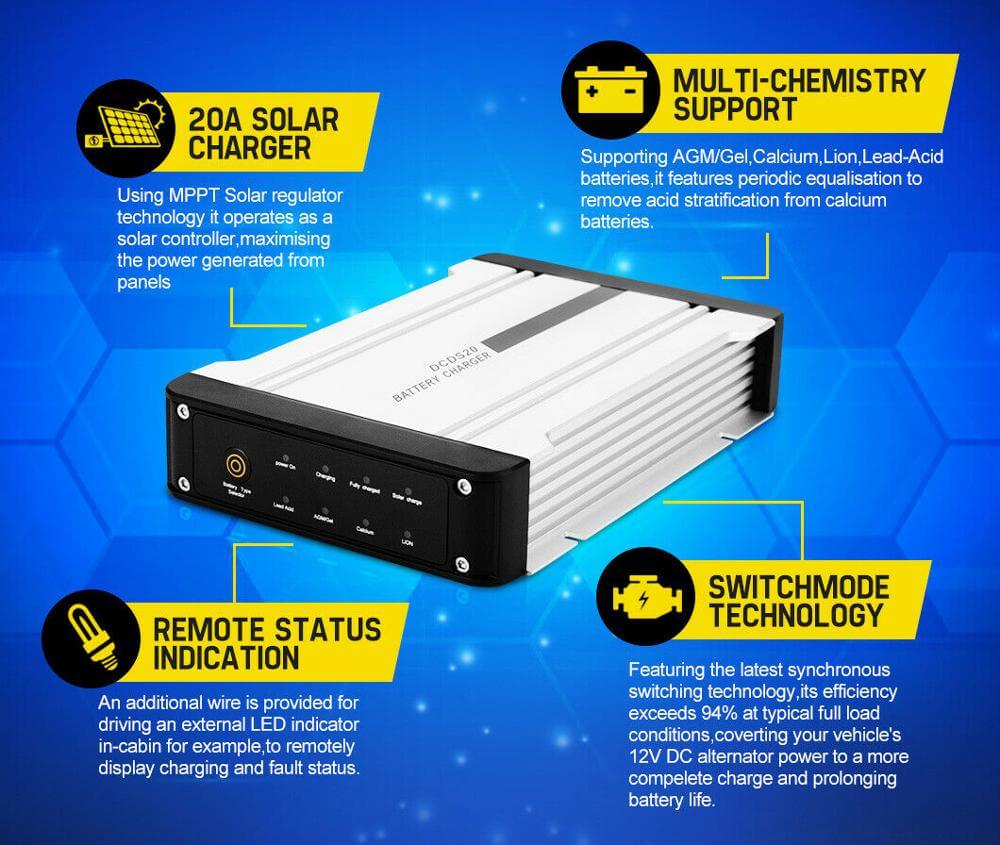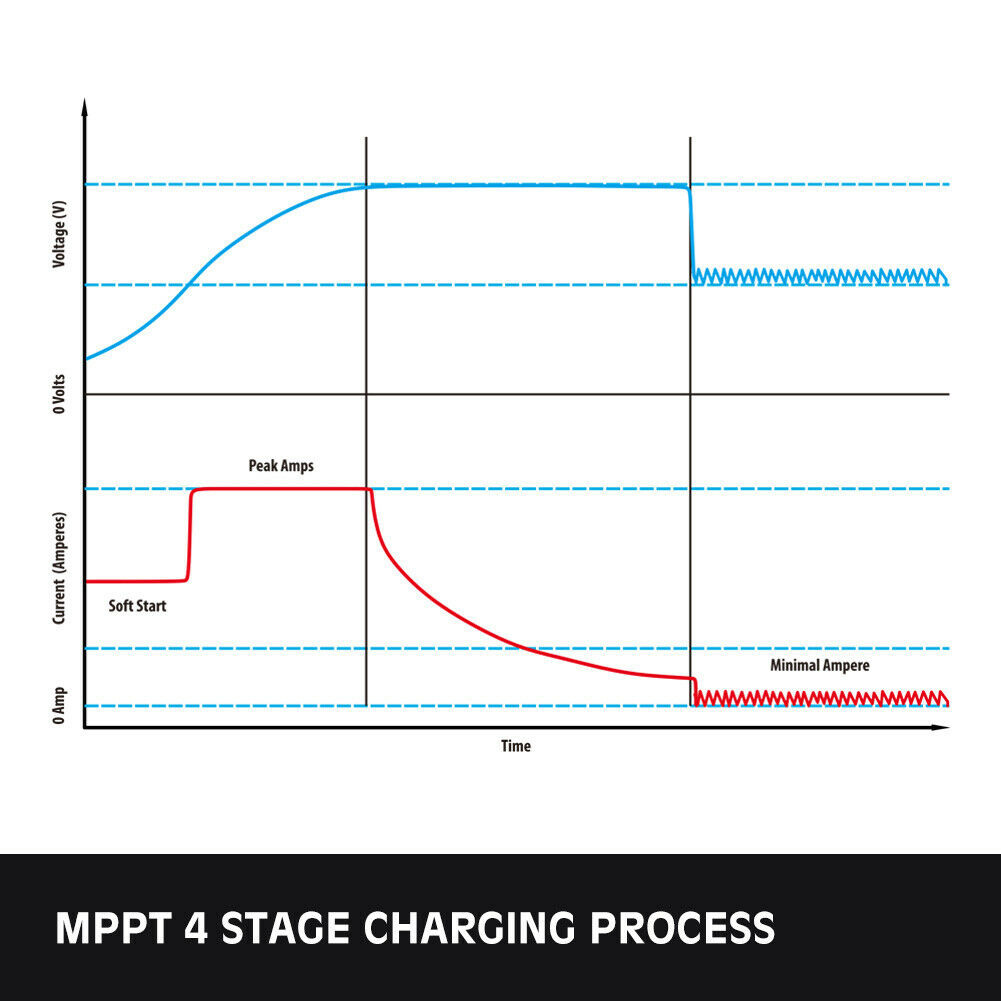 Specifications:
DC Battery: 13.2-16.0 Volts Solar Input: 16.0-25.0 Volts

Type: Dual input Multi-stage DC To DC

Input:DC Battery: 13.2-16.0 Volts Solar Input: 16.0-25.0 Volts

Output/Charging Voltage:13.5-15.4 Volts(Stops charging when alternator output or vehicle battery below 13.0 volts)

Output Current:DC Output: 20 Amp, Solar Output 20A.

Minimum Start Voltage:2.0 Volts-For battery being charged

Soft Start: Yes

Soft Charge Current: DCDS20@20A

Bulk Charge Voltage: 14.7V(AGM/Gel)14.4V(Lead Acid)15.4V(Calcium)14.4V(LiON)

Absorption:Constant voltage with automatic amperage control

Equalisation: Automatic

Float Charge Voltage: 13.5V(AGM/Gel)13.5V(Lead Acid)13.5V(Calcium)

Float Charge Current: 100mA

Battery Range: 18 to 250Ah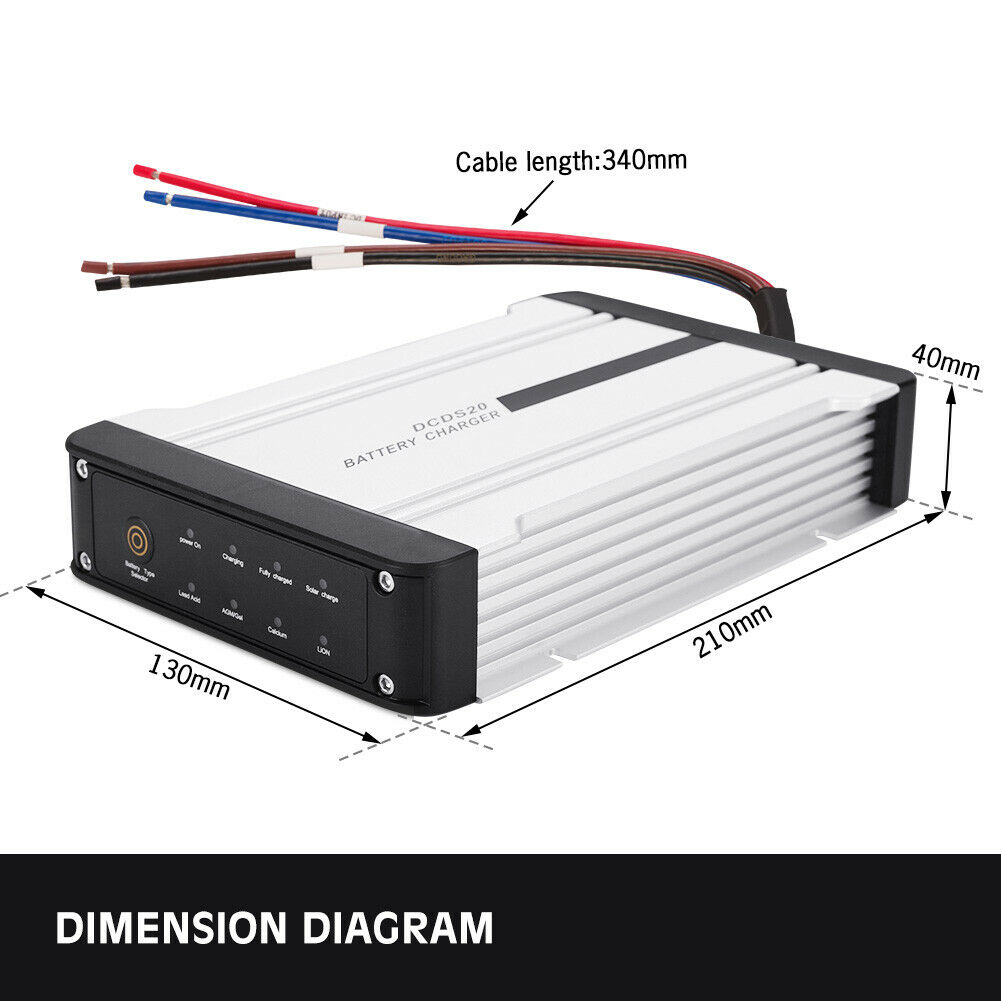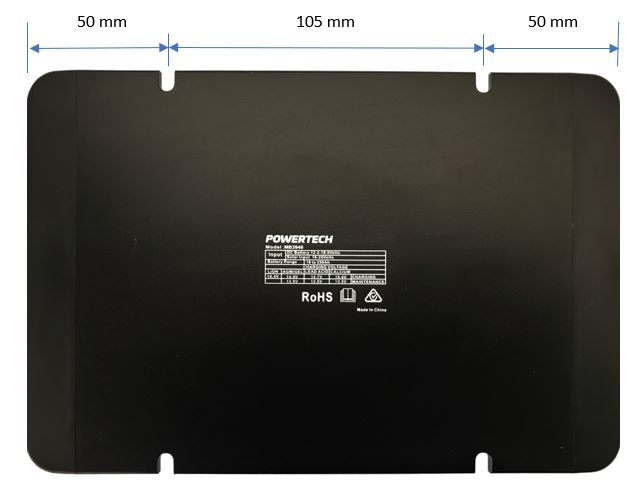 ·
1x 20A Dual battery charger
·
1X Capacity Monitoring Gauge
·
1x User manual (Wiring Diagram)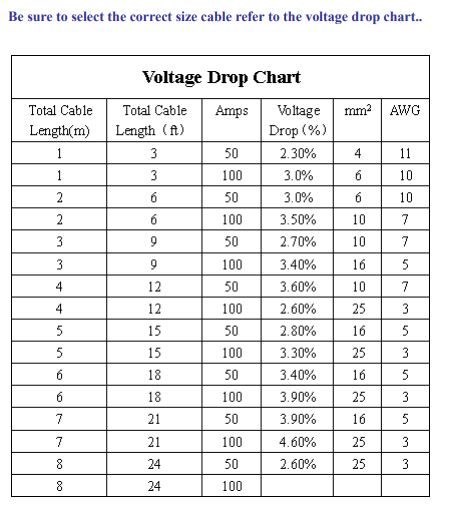 *
The Warranty *
2 Years coverage
| | |
| --- | --- |
| - After-Sales Services | - Money Back Guarantee |
| - Genuine Australian Seller | - Australian Distribution |
So Why Wait For An Emergency ? Get a Dual Input DC/DC Charger Now!
And remember you risk nothing by saying yes right now. In the unlikely event you are not 100% thrilled and absolutely delighted with your purchase, you will get a prompt and courteous refund on your investment. So if you are not completely happy for whatever reasons simply contact us and we will rush a full no hassle refund .
FREE Next Day Despatch Australia Wide!!
Fully Insured AU POST With Tracking Number.
Thanks very much for checking out our items & happy shopping!
P.S. If you're serious about putting an end to feeling Frustrated, Unwanted and Annoyed about Missing out on things... PLUS, if you're committed and excited about powering up your car, equipment and Keep your car or equipment going... then the smartest decision you could do is to take action right now while it's at this lowest price ever.
Shipping Options
Please note that business days do not include weekends or Victorian public holidays.
Shipping & handling charges are part of the sale. If you do not agree with the charges, please do not bid on this item.
Pickups:
Pickups are not available under any circumstances.
Free Shipping

Fully insured
Payment instructions
Paypal : We accept payment through paypal .
Internet Banking Transfer : We accept payments made via Internet banking from Australian Banks.
Bid Now To Grab A Bargain!
If we have not heard from you within 7 days from the invoice date, we reserve the right to relist the item and file a dispute. If your payment is received after we have relisted the item, we will deduct our listing fees before returning your payment to you. Obviously we prefer to avoid unnecessary disputes so please contact us if you need to extend the payment time.
Why buy from us?
• JRAutofix is a Registered Australian Business, we source and buy products in bulk from factories around the world and sell it to our customers directly. We have been operating since 2012 and have been providing our customers with outstanding quality products with unbeatable prices
• Great customer service is our priority and we strive to deliver the best to our customers - take a look at our feedback for confirmation
• Our Australian Business Registration Number ABN 18 659 908 229
• We offer 12 months warranty, for your peace of mind • We offer phone and email supports for all your technical needs
• No hidden customs duties and taxes upon importation ( for Australia sales only) • All prices are GST inclusive ( for Australia sales only)
Terms and conditions
We have made every effort to fully describe our products and explain our terms as clearly and succinctly as possible. Please ensure that you have read and understood the entire listing, including these terms and conditions, and have agreed to pay the costs involved (including shipping charges) before you place a bid or purchase this item. If you have any question, please contact us before bidding or purchasing this product.
1. Prior to installing/reinstalling the units, we strongly advise you to bench-test the unit first or to test the unit before completely installing it into the vehicle to ensure the unit is working as expected as to avoid wasting any time or money.
2. Orders are delivered by Australia Post.
3. Your order will be dispatched from our warehouse in Melbourne, Australia within 24 business hours after the payment was clear.
4. We do not offer warranty claim for products fall outside of warranty scope. Please refer to our warranty section for more information.
5. If you have any concerns with or do not understand our Terms and Conditions, we encourage you to contact us and we will make address your concerns within 24 business hours.
6. Unless otherwise stated, prices in our website are in Australian dollars. Prices are subject to change without prior notice.
Warranty
* This product comes with 5 years warranty. If the product is faulty, simply send the item back to us and we will send it to the manufacturer for repair on your behalf.
* Please note: the warranty does not cover deliberate physical damage, severe moisture or electrocution due to static short circuit, inserting into damaged equipment etc.
* In addition, we also guarantee all of our products to be working when you receive them, unless otherwise stated. Your satisfaction is important to us, so if your product is DOA (Dead On Arrival), let us know, and return it to us within 30 days of the date of purchase. We will send a replacement to you as soon as we receive your returned item (Costs associated with returning the items are not refundable. We will pay costs incurred in sending the replacement).
* Provide us a photo/image of the product and email with a description of the issue.
* Please note that items are not tested prior to sending unless requested by you. Despite our efforts to ensure the manufacturer produces products of a consistently high standard, faults can sometimes occur.
* All accessories are not covered by warranty such as the wiring harness, extended wires etc.
* Warranty will be void if products are misused, mishandled or modified in any way.
* Restocking fees maybe incurred in cases of refunds due to change of mind. For International buyers only
* Import duties, taxes and charges are not included in the item price or shipping cost. These charges are the buyer's responsibility. * Please check with your country's custom office to determine what these additional costs will be prior to bidding or buying.
* Processing and Handling charges on return items are buyer's responsibility. Refund will be issued as soon as is reasonably practicable and the customer will be provided with an e-mail notification. Refund only applies to the cost of the item
Disclaimer
If you are pleased with your purchase, please share your experience with other buyers and leave us positive feedback. If you are dissatisfied with your purchase in any way, please talk to us first!
We are happy to help you solve any problem and if the situation calls for it, we will provide refunds or replacements.
We try to help our customers rectify any problem within reasonable limits.
Depending on the situation, we may still entertain warranty requests even after the warranty period has expired. However, we are under no obligation to do so on a regular basis.
(JRA20ACH)
| | |
| --- | --- |
| SKU | JRA20ACH |
| Barcode # | 9319236755778 |
| Brand | Powertech |
| Shipping Weight | 1.2000kg |
| Shipping Width | 0.310m |
| Shipping Height | 0.050m |
| Shipping Length | 0.200m |
| Shipping Cubic | 0.003100000m3 |
More From This Category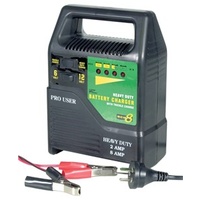 Battery Charger 6V & 12V Heavy Duty 8A with Trickl
$79.95
Smart Battery Charger 3.5A 12V 6V ATV Car Caravan
$64.95