9 State Smart Battery Charger 12V/24V 7.2A/3.6A Trickle Digital Car Boat Caravan 4WD
9 State Smart Battery Charger 12V/24V 7.2A/3.6A Trickle Digital Car Boat Caravan 4WD
Prompt Shipping / 2 Years Warranty.
"Thousands Now Restart Their Car Who Never Thought They Could"
Your Battery Failed On You (or worse, your spouse). Need A Way To Recharge That Battery Quickly.
Imagine … Your Battery Is Too Flat To Start Your Car And You Won't Be Able To Go, How Frustrating ! Need A Solution Now!!
Here's The Good News...
9 State Smart Battery Charger 12V/24V 7.2A/3.6A Trickle Digital Car Boat Caravan 4WD
!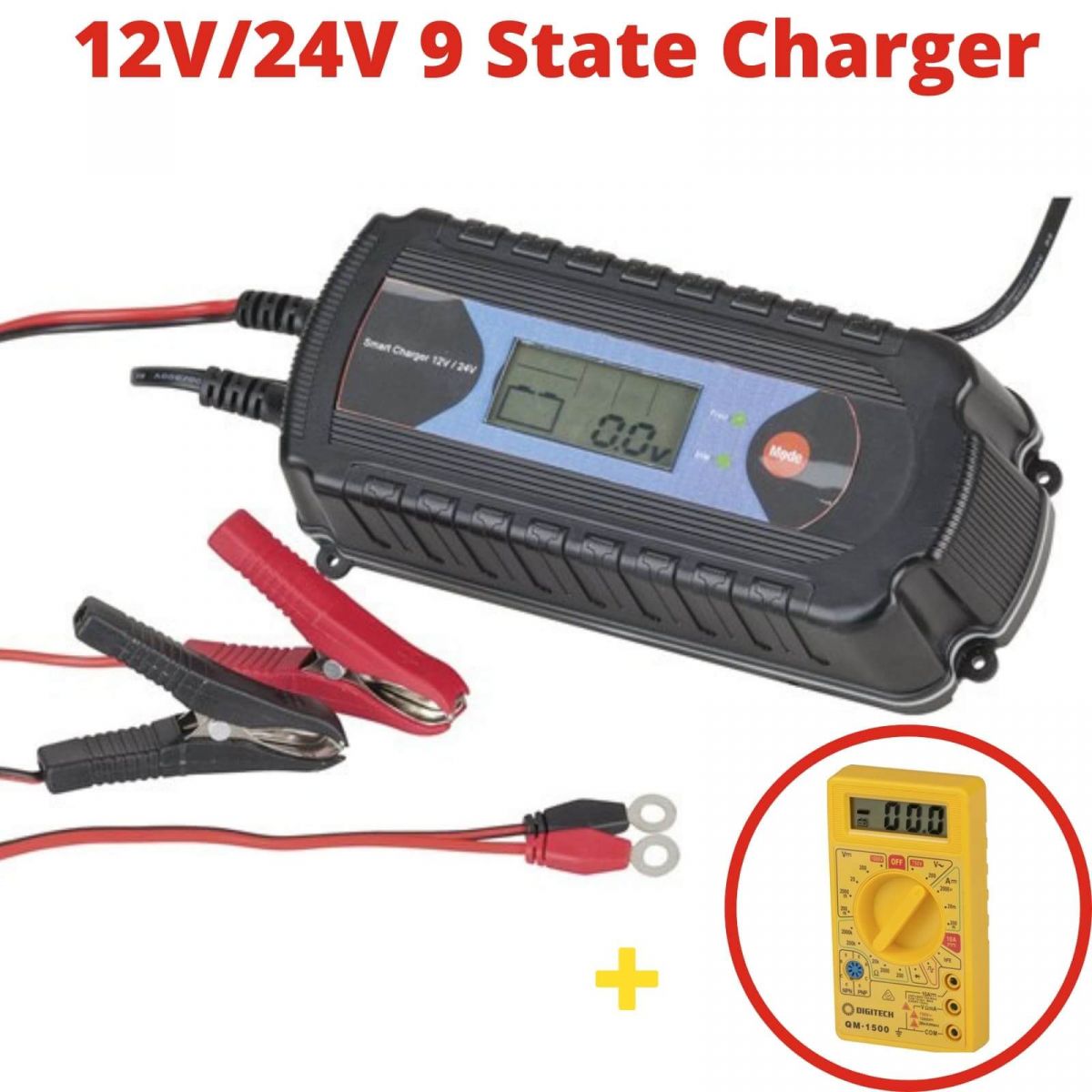 A Smart battery charger packed with useful features to quickly and safely charge your battery but also maintain and improve the life of your batteries.
A fully automatic 9 state charger for 12 or 24V lead acid (Wet cell, Gel cell, AGM) and lithium iron phosphate (LiFePO4) batteries.
Advanced diagnostics enables this unit to maximise charge rate while also maximising battery life.
The charger outputs 12V up to 7.2A and 24V up to 3.6A with 9 states of operation including multi-stage charging for 12V and 24V batteries.
The additional desulphation and recondition modes help in extending battery life.
By far one of the most versatile chargers for cars, 4WD, trucks, or boat applications.
So in my opinion ... having a smart battery charger to kepp your battery in optimal condition is paramount.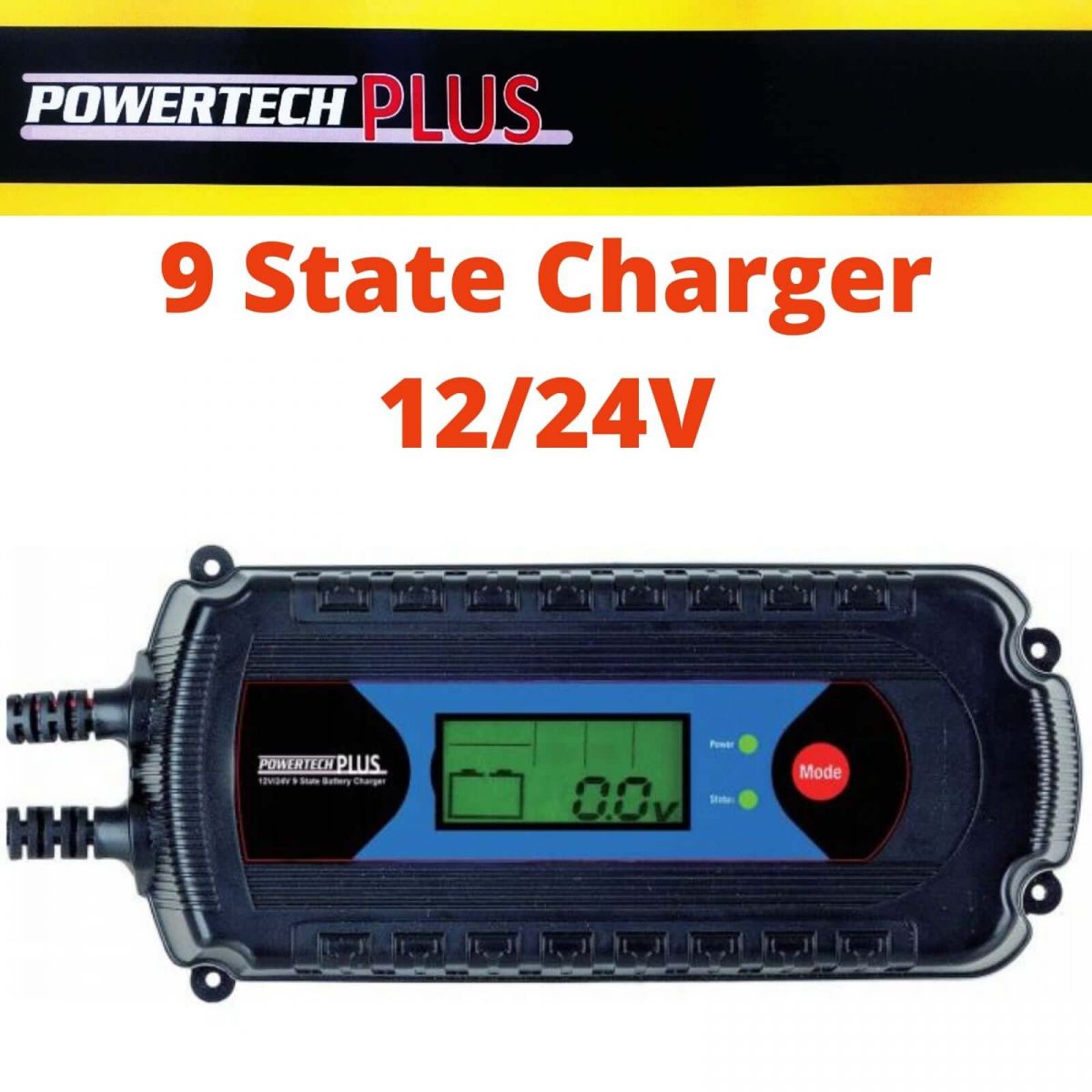 Automatic and Intelligent 9-Stage Charging Curve
The MB3613 is controlled by a microprocessor with 9-stage charging characteristic for charging batteries automobiles, motorcycles, snow mobiles, tractors, personal watercraft, boats etc.
A microprocessor senses the condition of the battery to provide the right current and voltage to the battery (charging characteristic). This will give the best effect on charging and give the longest life to battery.
Charging characteristic: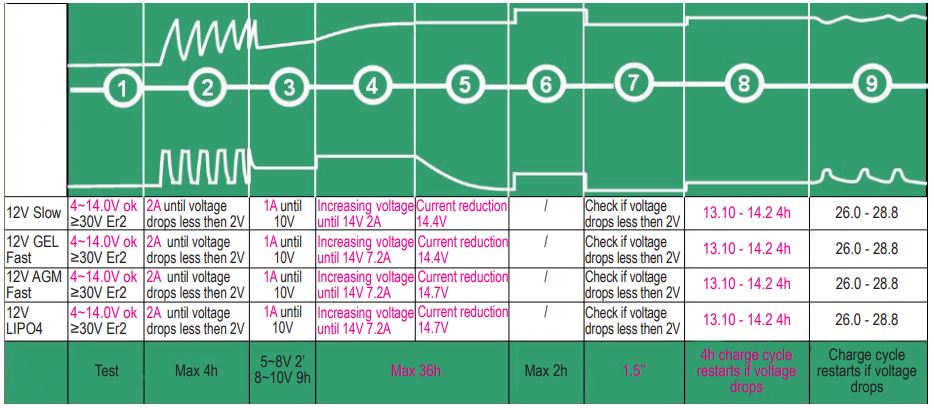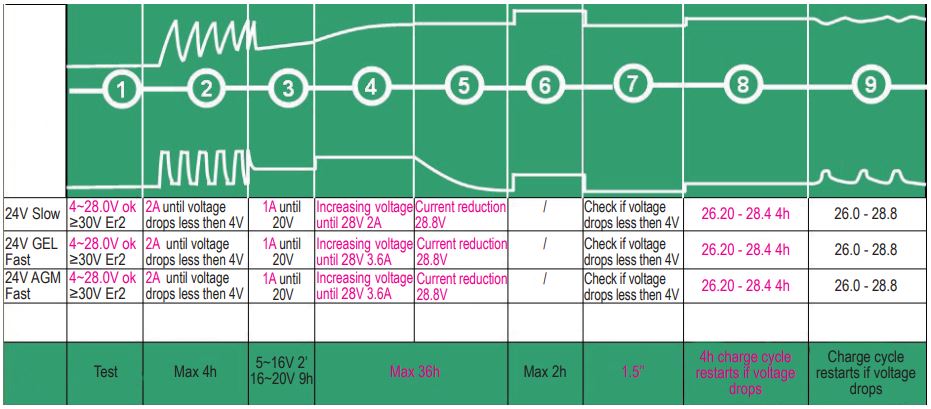 Battery Test and Precharge (Stage 1):
Check the battery voltage to make sure battery connections are good and the battery is in a stable condition before beginning the charge process
Desulphation (Stage2): Detects sulfated batteries. Pulsing current and voltage, removes sulfate from the lead plates of the battery restoring the battery
capacity Soft Start (Stage 3): Initial battery test to determine battery condition. If the battery is severely discharged, charger will begin the Soft Start stage. Charging starts with reduced current until battery voltage reaches a normal condition
for charge. Bulk (Stage 4): Major charging stage where the battery receives the majority of its charge. During this stage the battery brought to 75 - 80% of its charge. The charger delivers maximum current until the terminal voltage has risen to the full charge level for Normal battery.
Absorption (Stage 5): Completes the charge up to virtually 100% at a constant voltage. The current tapers off after the current reached the minimum level.
Recondition (Stage 6): Select "Recondition" mode, charged by higher voltage to recondition the sulfate of the battery to save battery life.
Analysis (Stage 7): Tests if the battery can hold charge. Batteries that can not hold charge may need to be replaced.
Float (Stage 8): Low constant voltage, minimal charge current, battery is fully charged
Pulse (Stage 9): Maintaining the battery at 95-100% capacity.
The charger monitors the battery voltage and gives a pulse when necessary to keep the battery fully charged
Power Supply: MB3613 has a power supply mode setting which has a constant voltage of 13.8V and current up to 5A, keep to provide power to computer system of modern car when replacing battery
(Please don't reverse battery connection to avoid the damage on the charger).
Temperature Compensation
A sensor will automatically adjust the charging voltage if the temperature deviates from –20°C to +45°C.
A high temperature environment will lower the voltage and freezing condition is handled by higher voltage.
A low temperature heightens the output voltage, and hot condition is handled by lower voltage.
Voltage compensation
Because of some voltage drop in the cables, the actual voltage at the clamps of the battery can be lower than the charger output voltage.
A special circuitry inside the unit will monitor the true input voltage to the battery and adjust the output voltage of the unit accordingly. This will maximise the charging efficiency.
Reverse-polarity protection.
This unit offers reverse-polarity protection under charging modes, the RED LED will illuminate and the charging process will not start.
If this happens, unplug immediately from mains, connect the red clamp to positive (+) battery post, and black clamp to negative (-) post, then plug into the mains power and the charging process will start.
Short-circuit protection
Should you accidentally touch the clamps together whilst the mains power is on, the unit will not perform charging. Unplug from mains, disconnect and start the process again being careful not to touch the clamps together.
Charge Memory
If power off on charging, MB3613 can automatically restart charging base on previous power down status for battery and charging current.
ATTENTION: Once the clamp of charger is disconnected from the battery, this memory is erased and the charging mode will need to be reselected.
Other features
Anti Spark Protection

Battery and Charger Overheating Protection

It will give a warning buzz while error occurs

Waterproof Plastic Housing.

Ingress Protection Rating IP65
No need to

wait for

a Mechanic and

pay an expensive fee

.

If you have a

good quality Battery Charger

with you then you will not need to wait.


You will be able to rejuvenate your battery yourself in no time.
Modern day Battery Charger do not take a lot of space in your car and they are safe to use.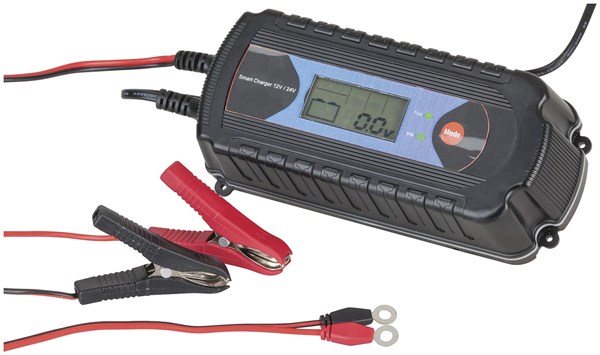 Specifications:
Mains Voltage Range : 220.0V

Mains Max Current : 1.3A

Mains Item connection : Mains AU/NZ 2 Pin (No Earth)

Type of Batteries : Lead Acid, Lithium Ferrous Phosphate (LiFePO4)

Charger Output Voltage : 5.0V, 14.7V, 10.0V, 29.4V

Charger Output Current : 7.2A, 3.6A

Controller Type : Multi-Stage

Reverse Polarity Protection : true

Additional Functions : Power Supply Mode Outputs 13.8V up to 5.0A
Whats included
1 x 9 State Battery Charger

2 x Cable connection set

1 Bonus Multimeter
Come and grab one of this amazing, versatile, handy and efficient Battery Charger and keep your battery for longer.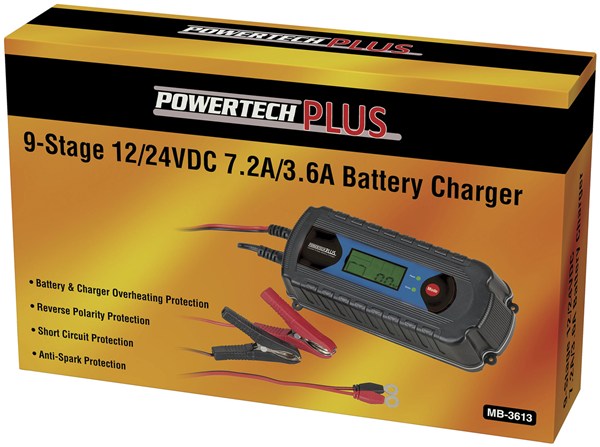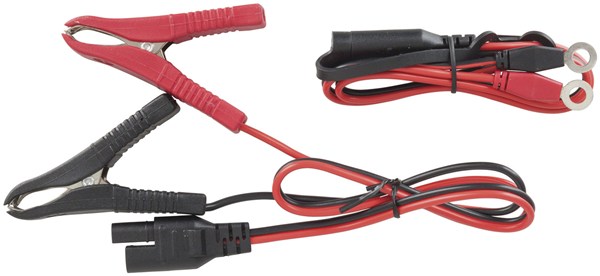 FREE Bonus : 1 Mulitester with Leads, Always Recommended To Check Your Battery Before Charging !!
Practical Wide Range of Applications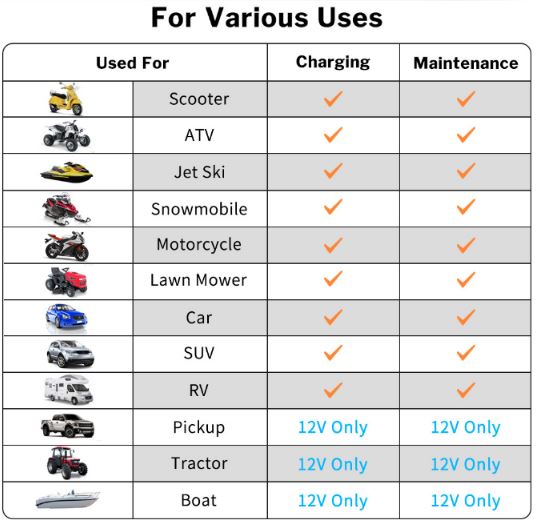 *

The Warranty *
2 Years coverage
| | |
| --- | --- |
| - After-Sales Services | - Money Back Guarantee |
| - Genuine Australian Seller | - Australian Distribution |
So Why Wait For An Emergency ? Get an Smart Battery Charger ressor Smart Battery Charger Now!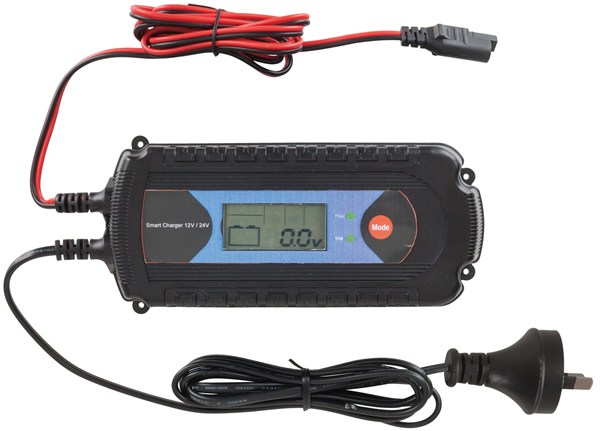 And remember you risk nothing by saying yes right now. In the unlikely event you are not 100% thrilled and absolutely delighted with your purchase, you will get a prompt and courteous refund on your investment. So if you are not completely happy for whatever reasons simply contact us and we will rush a full no hassle refund .
Welcome to JRAutoFix Ebay Power Seller Online!
BUY WITH CONFIDENCE !!
FREE Next Day Despatch Australia Wide!!
Fully Insured AU POST With Tracking Number.
Thanks very much for checking out our items & happy shopping!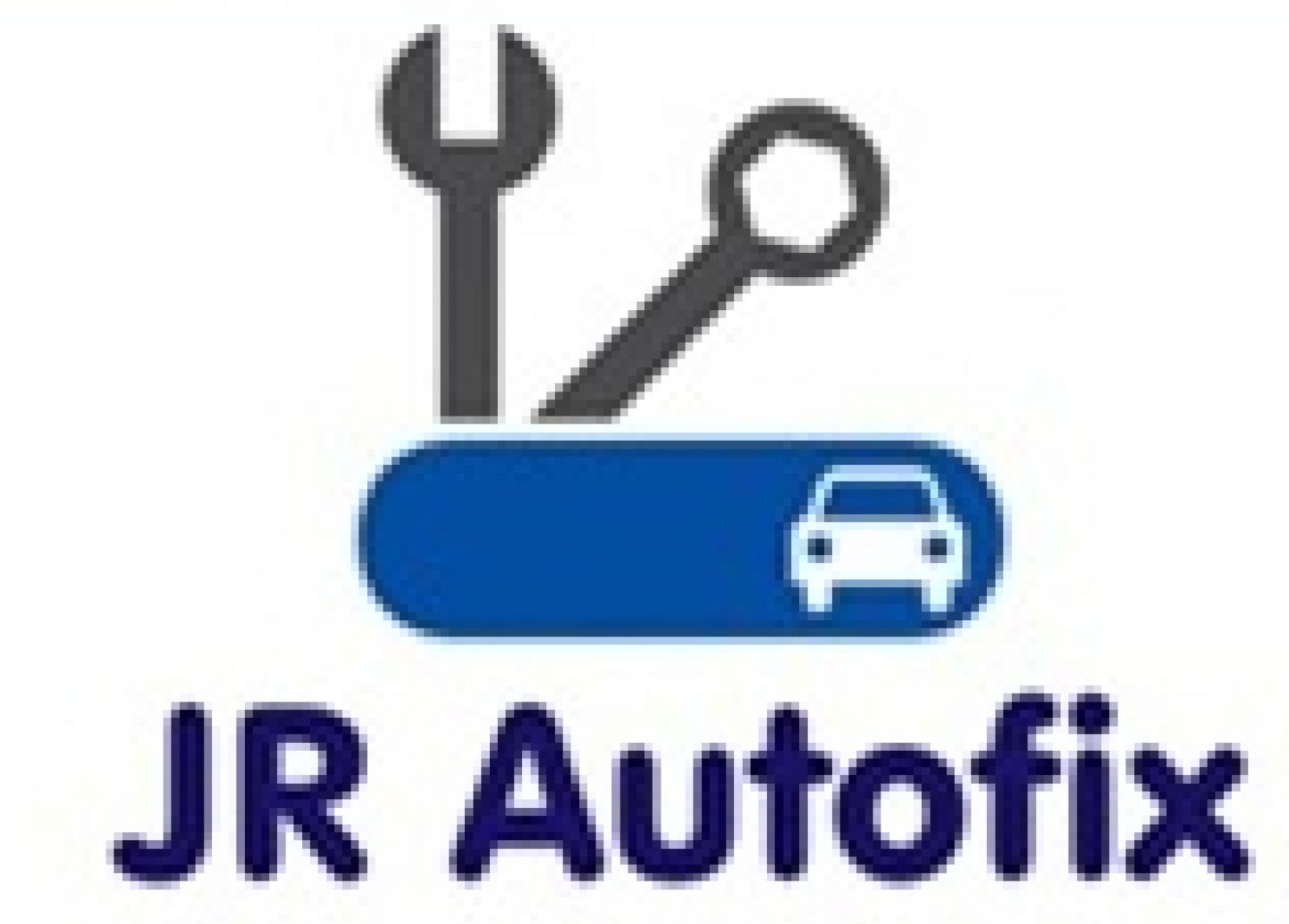 P.S. If you're serious about putting an end to feeling Frustrated, Unwanted and Annoyed about Missing out on things... PLUS, if you're committed and excited about repairing your car and Keep your car going... then the smartest decision you could do is to take action right now while it's at this lowest price ever.
Shipping Options
Please note that business days do not include weekends or Victorian public holidays.
Shipping & handling charges are part of the sale. If you do not agree with the charges, please do not bid on this item.
Pickups:
Pickups are not available under any circumstances.
Free Shipping

Fully insured
Payment instructions
Paypal : We accept payment through paypal .
Internet Banking Transfer : We accept payments made via Internet banking from Australian Banks.
Bid Now To Grab A Bargain!
If we have not heard from you within 7 days from the invoice date, we reserve the right to relist the item and file a dispute. If your payment is received after we have relisted the item, we will deduct our listing fees before returning your payment to you. Obviously we prefer to avoid unnecessary disputes so please contact us if you need to extend the payment time.
Why buy from us?
• JRAutofix is a Registered Australian Business, we source and buy products in bulk from factories around the world and sell it to our customers directly. We have been operating since 2012 and have been providing our customers with outstanding quality products with unbeatable prices
• Great customer service is our priority and we strive to deliver the best to our customers - take a look at our feedback for confirmation
• Our Australian Business Registration Number ABN 18 659 908 229
• We offer 12 months warranty, for your peace of mind • We offer phone and email supports for all your technical needs
• No hidden customs duties and taxes upon importation ( for Australia sales only) • All prices are GST inclusive ( for Australia sales only)
• All stocks are held in Melbourne, so buying from us is generally faster, cheaper and safer than purchasing similar items from overseas sellers
• We constantly improve our product quality by working together with the manufacturer in research and development
Terms and conditions
We have made every effort to fully describe our products and explain our terms as clearly and succinctly as possible. Please ensure that you have read and understood the entire listing, including these terms and conditions, and have agreed to pay the costs involved (including shipping charges) before you place a bid or purchase this item. If you have any question, please contact us before bidding or purchasing this product.
1. Prior to installing/reinstalling the units, we strongly advise you to bench-test the unit first or to test the unit before completely installing it into the vehicle to ensure the unit is working as expected as to avoid wasting any time or money.
2. Orders are delivered by Australia Post.
3. Your order will be dispatched from our warehouse in Melbourne, Australia within 24 business hours after the payment was clear.
4. We do not offer warranty claim for products fall outside of warranty scope. Please refer to our warranty section for more information.
5. If you have any concerns with or do not understand our Terms and Conditions, we encourage you to contact us and we will make address your concerns within 24 business hours.
6. Unless otherwise stated, prices in our website are in Australian dollars. Prices are subject to change without prior notice.
It is important for you to understand these terms and conditions before you make any purchases. By making any purchase, you accept these terms and conditions and accept that these terms and conditions (above) remain in force above and beyond any guarantee(s) provided by any other third party. If you do not agree with the above terms and conditions, please do not purchase this item.
Warranty
* This product comes with 5 years warranty. If the product is faulty, simply send the item back to us and we will send it to the manufacturer for repair on your behalf.
* Please note: the warranty does not cover deliberate physical damage, severe moisture or electrocution due to static short circuit, inserting into damaged equipment etc.
* In addition, we also guarantee all of our products to be working when you receive them, unless otherwise stated. Your satisfaction is important to us, so if your product is DOA (Dead On Arrival), let us know, and return it to us within 30 days of the date of purchase. We will send a replacement to you as soon as we receive your returned item (Costs associated with returning the items are not refundable. We will pay costs incurred in sending the replacement).
* Provide us a photo/image of the product and email with a description of the issue.
* Please note that items are not tested prior to sending unless requested by you. Despite our efforts to ensure the manufacturer produces products of a consistently high standard, faults can sometimes occur.
* All accessories are not covered by warranty such as the wiring harness, extended wires etc.
* Warranty will be void if products are misused, mishandled or modified in any way.
* Restocking fees maybe incurred in cases of refunds due to change of mind. For International buyers only
* Import duties, taxes and charges are not included in the item price or shipping cost. These charges are the buyer's responsibility. * Please check with your country's custom office to determine what these additional costs will be prior to bidding or buying.
* Processing and Handling charges on return items are buyer's responsibility. Refund will be issued as soon as is reasonably practicable and the customer will be provided with an e-mail notification. Refund only applies to the cost of the item
Disclaimer
If you are pleased with your purchase, please share your experience with other buyers and leave us positive feedback. If you are dissatisfied with your purchase in any way, please talk to us first!
We are happy to help you solve any problem and if the situation calls for it, we will provide refunds or replacements.
We try to help our customers rectify any problem within reasonable limits.
Depending on the situation, we may still entertain warranty requests even after the warranty period has expired. However, we are under no obligation to do so on a regular basis.
Other Item That You Might Like For Your Next Trip !!
JRautofix Copyright
(JRAMB3613)
| | |
| --- | --- |
| SKU | JRAMB3613 |
| Barcode # | 9319236676141 |
| Brand | Powertech Plus |
| Shipping Weight | 0.6000kg |
| Shipping Width | 0.350m |
| Shipping Height | 0.150m |
| Shipping Length | 0.250m |
| Shipping Cubic | 0.013125000m3 |
Others Also Bought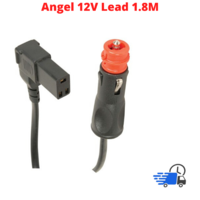 Engel Fridge Power Lead Cable Merits/Cigarette Lig
$24.95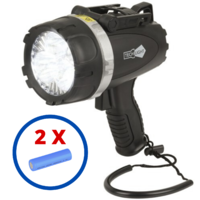 45W Rechargeable Spotlight Flashlight Floating Wat
$114.95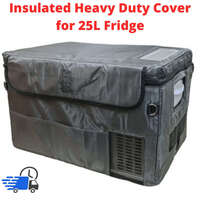 New Grey Insulated Cover Heavy Duty for 25L Brass
$99.95